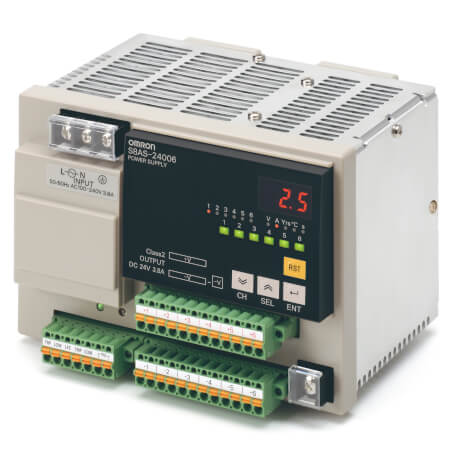 S8AS
Power Supply with the circuit protector function
The S8AS series are smart power supplies with digital circuit protectors in a single package. The output is divided to 6 or 8 channels and provides adjustable tripping current range for each channel at 0.1 A increments.  It can save installation space in panel with less-wiring by the integration of the circuit protector functions.
Operating temperature range (-10 to +60ºC)
The 3 digit, 7 segment display
Signal outputs for Tripping function and the alrams
Maintenance forcast
Start-up & Shut down sequence
External tripping input
Comunication terminal, RS-485
cULus, EN, RoHS compliant
UL Class 2 output
How can we help you?
If you have a question or would like to ask for a quote, please contact us or send a request.
+27 (0)11 579 2600
Contact us
Contact me S8AS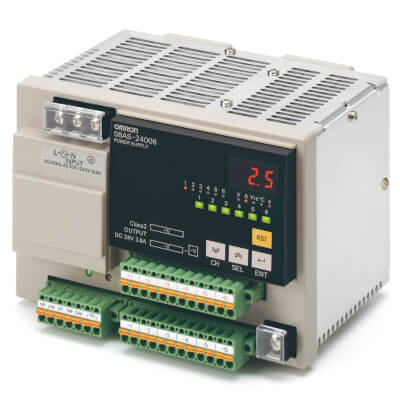 Thank you for submitting your request. We will come back to you as soon as possible.
We are experiencing technical difficulties. Your form submission has not been successful. Please accept our apologies and try again later. Details: [details]
Download
Request quotation
Request quotation
Quotation for S8AS
By completing this form you can request a quotation. Your personal details will be handled confidentially.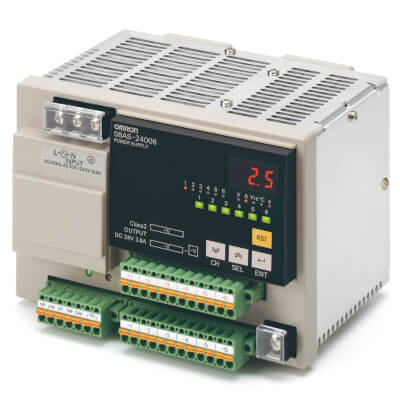 Thank you for requesting a quotation. We will provide you with the required information as soon as possible.
We are experiencing technical difficulties. Your form submission has not been successful. Please accept our apologies and try again later. Details: [details]
Download
Specifications & ordering info
| Product | Type | Mounting method | Phase | Power output | Output voltage | Rated output current | Features | Terminal | Communication port(s) | Alarm function | Number of output branches | Rated supply voltage at AC 50 Hz | Allowable supply voltage AC | Product Width (unpacked) | Product Height (unpacked) | Product Depth (unpacked) | Efficiency | Temperature range | Description | |
| --- | --- | --- | --- | --- | --- | --- | --- | --- | --- | --- | --- | --- | --- | --- | --- | --- | --- | --- | --- | --- |
| | Book type | DIN rail | Single | 240 W | 24 V | 10 A | UL class 2 | Push-in, Screw | None | - | 6 | 100-240 V | 85-264 V | 160 mm | 119.5 mm | 131.8 mm | 80 % | -10-60 °C | Power supply, 240W, 24VDC, 6 branch output | |
| | Book type | DIN rail | Single | 240 W | 24 V | 10 A | Not changeable parameters, UL class 2 | Push-in, Screw | None | - | 6 | 100-240 V | 85-264 V | 160 mm | 119.5 mm | 131.8 mm | 80 % | -10-60 °C | Power supply, 240W, 24VDC, 100 to 240 input voltage, 10A current, 6 branch outputs, no communication function, not changeable parameter setting | |
| | Book type | DIN rail | Single | 240 W | 24 V | 10 A | UL class 2 | Push-in, Screw | Serial RS-485 | - | 6 | 100-240 V | 85-264 V | 160 mm | 119.5 mm | 142.4 mm | 80 % | -10-60 °C | Power supply, 240W, 24VDC, 100 to 240 input voltage, 10A current, 6 branch outputs, RS-485 communication function, changeable parameter setting | |
| | Book type | DIN rail | Single | 480 W | 24 V | 20 A | UL class 2 | Push-in, Screw | None | - | 8 | 100-240 V | 85-264 V | 230 mm | 119.5 mm | 131.8 mm | 80 % | -10-60 °C | Power supply, 480W, 24VDC, 8 branch output | |
| | Book type | DIN rail | Single | 480 W | 24 V | 20 A | Not changeable parameters, UL class 2 | Push-in, Screw | None | - | 8 | 100-240 V | 85-264 V | 230 mm | 119.5 mm | 131.8 mm | 80 % | -10-60 °C | Power supply 480W, 24VDC, 100 to 240 input voltage, 20A current, 8 branch outputs, no communication function, not changeable parameter setting | |
| | Book type | DIN rail | Single | 480 W | 24 V | 20 A | UL class 2 | Push-in, Screw | Serial RS-485 | - | 8 | 100-240 V | 85-264 V | 230 mm | 119.5 mm | 142.4 mm | 80 % | -10-60 °C | Power supply, 480W, 24VDC, 100 to 240 input voltage, 20A current, 8 branch outputs, RS-485 communication function, changeable parameter setting | |
Compare products
Show more products