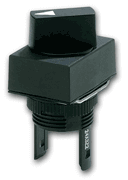 A165S/W
Knob-type selector switch with a mounting aperture of 16mm
A165S/W nut-mounted, knob-type selector switches have a modular construction and a short mounting depth of less than 28.5mm below the panel. They come in a wide range of switching capacities, from standard load to micro load.
Lighted and non-lighted models available
Automatic and manual models available
Modular construction, snap-in switch unit
Oil-resistant IP65 models
UL and cUL approved, conforms to EN60947-5-1 and IEC947-5-1
How can we help you?
If you have a question or would like to ask for a quote, please contact us or send a request.
+27 (0)11 579 2600
Contact us
Contact me A165S/W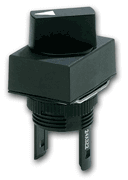 Thank you for submitting your request. We will come back to you as soon as possible.
We are experiencing technical difficulties. Your form submission has not been successful. Please accept our apologies and try again later. Details: [details]
Download
Request quotation
Request quotation
Quotation for A165S/W
By completing this form you can request a quotation. Your personal details will be handled confidentially.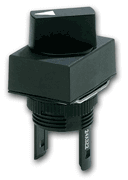 Thank you for requesting a quotation. We will provide you with the required information as soon as possible.
We are experiencing technical difficulties. Your form submission has not been successful. Please accept our apologies and try again later. Details: [details]
Download