Advanced machine solutions

Ever wondered, how much does it cost your customer, if your machine stops working?

We have the technology that can significantly improve the Overall Equipment Effectiveness (OEE) of your installed machine by reducing downtime.

Predictive maintenance
A series of innovative Function Blocks for the NJ series controller to warn about potential future issues, avoiding downtime.
Database functionality within the Sysmac platform allows fast and secure data storage.
Event based information can be shared remotely to inform others of potential issues.
A user can be provided with information via the NA series HMI in numerous forms including text, graphics, PDF or video.
Failed component changeover
Monitor all EtherCAT connected devices via the in-built Troubleshooter on the NA series HMI.
Complete machine programs and parameter sets can be restored via an SD card.
Fast change-over & set up
All key components can be easily reset with the touch of a button to suit the product required. This includes sensors, vision, servo, inverters, temperature control and even robots. Automation potentially allows a machine to be configured via inputs from devices such as RFID, vision or barcodes.
The Sysmac integrated platform can help reduce downtime in numerous areas of your machine design, providing significant benefits to you and your customers. Our effective technology reduces machine downtime in four key areas.
Integrated device monitoring
Critical components such as servo axes, actuators and sensors can all be monitored and whenever their operation deviates from a normal condition, a warning or alarm is raised.
Remote connectivity
Promptly providing the right person with information relating either to potential future issues or current machine status will significantly reduce downtime. 
Visualisation assistance
Easy to use local information can be made available via HMIs to provide operators and maintenance staff with information on the issue including embedded pdf and video.
Data analysis
Machine data is a vital part of any maintenance or continuous improvement program. The Sysmac platform ensures data is stored securely and we support numerous leading vendors. The data can then be analysed and compared to derive useful information as part of a continuous improvement program.
Our reduced machine downtime solution works with the Sysmac integrated platform and would provide significant benefits to you and your customer:
Real time device level information that predicts issues within key machine components before they become critical
Servo: Continually monitor the position and torque response of a servo axis against normal operation.
Sensor: Monitor multiple sensors for deterioration in operation, providing an alarm when a threshold is reached.
Actuator: Against a measured time of travel, inform if the operation time falls outside normal operation limits.
SD card
Complete backup of machine programs and device parameter sets, ensures a machine can be quickly reprogrammed in the event of a device failure.

Database functionality
• All data, both performance and maintenance related is easily made available for analysis.
• In the event of a communications loss to Database server, Sysmac controllers simply continue to store data internally until the link is re-established.
• Sysmac operates with Databases at high speed, so there is no limitation in processing of machine data to aid predictive maintenance and continuous improvement programs.
• Database connections for all major Dbase products such as SQL, Oracle, IBM DB2, MySQL and Firebird. 
NA HMI
• An in-built Troubleshooter provides accurate information on the machine component fault and remedial actions required.
• Troubleshooter also provides detailed information on safety network.
• The NA provides the user functionality to create Intelligent Application Gadgets [IAGs] with embedded code that can provide valuable machine data and visualization options.
Tablet viewer
The NA viewer app provides a mimic of the NA HMI on a third party device, ensuring current machine status and monitoring is available anywhere, anytime.


Other products that help reduce downtime:
Safety switches: D40 series are non-contact types and eliminate a potential point of failure when compared to traditional tongue types.
Power supplies: S8VK-R provides redundancy backup when used with switching power supplies.
UPS: S8BA UPS protects against voltage drop and power loss.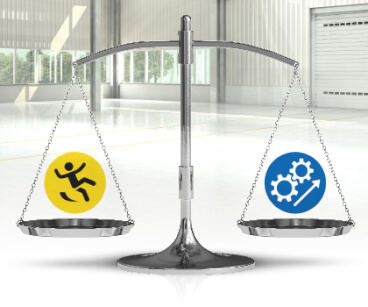 Yes, adhering to safety standards whilst optimising productivity is possible by considering specific safety components in key design areas, selected from our comprehensive product portfolio.

read more