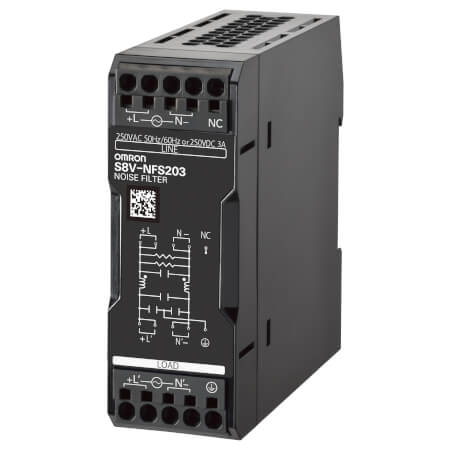 S8V-NF
Noise Filter S8V-NF
DIN Rail Mounting Type Ideal for Control Panels Featuring a Slim Design that Saves Space Push-In Connections for Safe and Easy Wiring
150 kHz to 1 MHz high attenuation
Operation possible at ambient temperatures from -40 to 85°C
Complies with RoHS directives
Certification for 3,000 m altitude (UL/EN 60939)
Specifications & ordering info
Ordering information
Note: For details on normal stock models, contact your nearest OMRON representative.
Specifications
Single-phase 250 VAC 50/60 Hz1, 250 VDC

25 dB min. (Common Mode: 0.1 to 10 MHz, Normal Mode: 0.2 to 30 MHz)

2.5 kVAC for 1 min. (between line and ground), current cutoff 10 mA

−40 to 85 °C (Derating is required.) (with no condensation or icing)

10 to 55 Hz, maximum 5 G, 0.42 mm half amplitude for 2 h each in X, Y, and Z directions

UL 60939 (Recognition) OVC III ( ≤ 3000 m ) Pol2

EN 60939 OVC III ( ≤ 3000 m) Pol2

ENEC2
---
How can we help you?
If you have a question or would like to ask for a quote, please contact us or send a request.
+27 (0)11 579 2600
Contact us
Contact me S8V-NF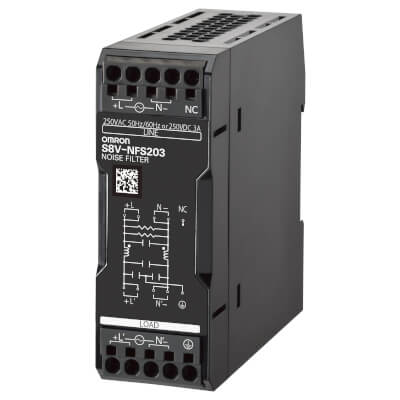 Thank you for submitting your request. We will come back to you as soon as possible.
We are experiencing technical difficulties. Your form submission has not been successful. Please accept our apologies and try again later. Details: [details]
Download
Request quotation
Request quotation
Quotation for S8V-NF
By completing this form you can request a quotation. Your personal details will be handled confidentially.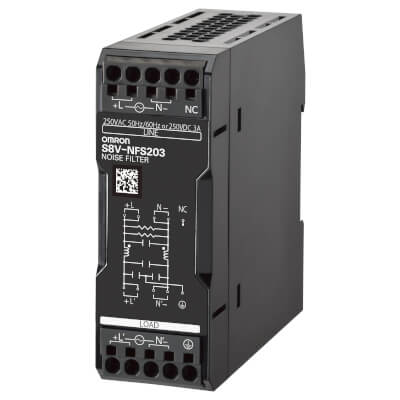 Thank you for requesting a quotation. We will provide you with the required information as soon as possible.
We are experiencing technical difficulties. Your form submission has not been successful. Please accept our apologies and try again later. Details: [details]
Download