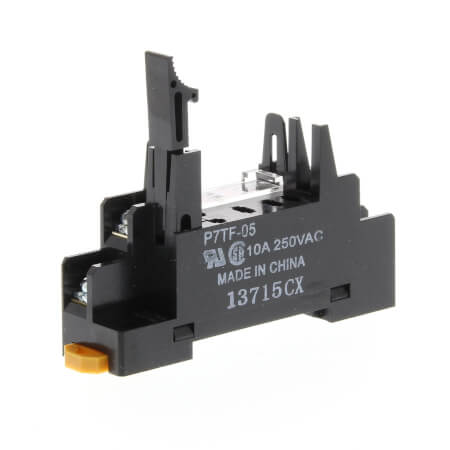 P7TF-05
P7TF is the G7T relays family sockets range
The G7T (SPST-NO, SPST-NC, and SPDT types) and the G3TA I/O Relays can be mounted on the P7TF-05 Socket. The P7TF socket has the following features:
The P7TF is a socket with reduced dimensions.
Accessory line-up including short bar and module, work as an operation indicator with the surge suppression.
Release lever included.
G7T I/O Relay and G3TA I/O Relays can be easily mounted or dismounted.
Only 19 mm in width.
Terminals corresponding to the NO and NC contacts of a Relay are arranged on top of the Socket to enhance maintainability.
Specifications & ordering info
| Product | Applicable product family | Mounting method | Terminal | Product Width (unpacked) | Product Height (unpacked) | Product Depth (unpacked) | Color | Hold down clip included | Applicable wire | Description | |
| --- | --- | --- | --- | --- | --- | --- | --- | --- | --- | --- | --- |
| | G7TC | DIN rail/screw | Screw | 71.5 mm | 59 mm | 19 mm | Black | Yes | Solid, Stranded, With ferrules | Socket, DIN rail/surface mounting, 5-pin, screw terminals | |
Compare products
Show more products
How can we help you?
If you have a question or would like to ask for a quote, please contact us or send a request.
+27 (0)11 579 2600
Contact us
Contact me P7TF-05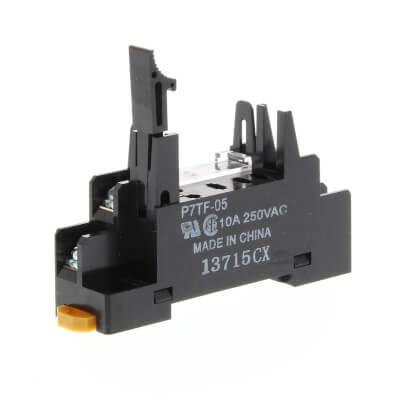 Thank you for submitting your request. We will come back to you as soon as possible.
We are experiencing technical difficulties. Your form submission has not been successful. Please accept our apologies and try again later. Details: [details]
Download
Request quotation
Request quotation
Quotation for P7TF-05
By completing this form you can request a quotation. Your personal details will be handled confidentially.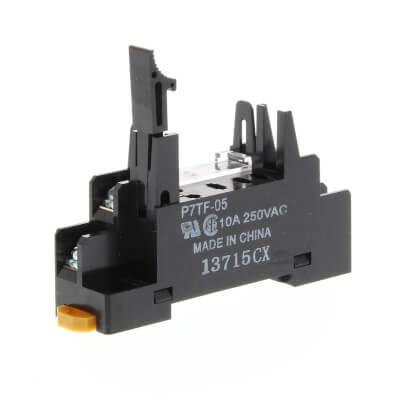 Thank you for requesting a quotation. We will provide you with the required information as soon as possible.
We are experiencing technical difficulties. Your form submission has not been successful. Please accept our apologies and try again later. Details: [details]
Download