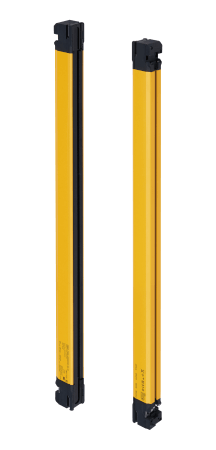 F3SG-SR/PG
ALL in ONE Line-Up
The F3SG-SR/PG series offers a complete range of safety light curtains and multi-beam that covers all applications from machine openings to perimeter and access guarding.
Broadest product line-up to increase design flexibility and standardization by:
- Simplifying product selection and machine design with the same compact profile for either application
- Providing a wide range of protective heights to completely fit the protected area required
Long operating range and stable detection thanks to unique high-power optical design: It enables reliable sensing even in harsh environment and multiple light beam re-direction by mirrors for perimeter guarding applications
Environmental resistance and rugged structure including oil resistance (IP67G) in all series and optional high-pressure wash-down models (IP69K)
Quick installation: Area Beam Indicator (ABI) facilitates the fine adjustment of beams for long-distance alignment
Easy diagnostics: Operating Status indicators help to determine the optimal replacement timing and possible errors
Protection without dead space*1 in both sides it detects an operator's hand anywhere on the safety area even with series-connected or U-shape connected
Plug and work for quick replacement thanks to the copy and restore settings function of the intelligent tap that includes easy on-site monitoring via Bluetooth®
Remote monitoring and operating data collection to prevent unplanned stoppages through intelligent tap by means of IO-Link communication (Ready for IoT)
*1. Only for hand protection models (Detection capability 25mm dia.
Specifications & ordering info
| Product | Sensing method | Type of safety according to IEC 61496-1 | Type of protection | Detection capability | Safety field height | Number of beams | Beam spacing | Maximum safety range | Key features | Degree of protection (IP) | Cascadable | Description | |
| --- | --- | --- | --- | --- | --- | --- | --- | --- | --- | --- | --- | --- | --- |
| | Safety light curtain | 2 | Finger protection | 14 mm | 160 mm | 15 | 10 mm | 10 m | Auxiliary output, Blanking, Designated beam output, External Device Monitoring (EDM), External test, Interlock, Muting, Mutual interference prevention, Operating range selection, PNP/NPN selection, Pre-reset, Response time adjustment, Warning zone | IP65/IP67/IP67G | Yes | Safety Light Curtain, F3SG-SRB Standard, Type 2, 14 mm resolution, range 0.3 to 10.0 m, height 160 mm, PNP/NPN | |
| | Safety light curtain | 2 | Hand protection | 25 mm | 160 mm | 8 | 20 mm | 20 m | Auxiliary output, Blanking, Designated beam output, External Device Monitoring (EDM), External test, Interlock, Muting, Mutual interference prevention, Operating range selection, PNP/NPN selection, Pre-reset, Response time adjustment, Warning zone | IP65/IP67/IP67G | Yes | Safety Light Curtain, F3SG-SRB Standard, Type 2, 25 mm resolution, range 0.3 to 20.0 m, height 160 mm, PNP/NPN | |
| | Safety light curtain | 2 | Finger protection | 14 mm | 240 mm | 23 | 10 mm | 10 m | Auxiliary output, Blanking, Designated beam output, External Device Monitoring (EDM), External test, Interlock, Muting, Mutual interference prevention, Operating range selection, PNP/NPN selection, Pre-reset, Response time adjustment, Warning zone | IP65/IP67/IP67G | Yes | Safety Light Curtain, F3SG-SRB Standard, Type 2, 14 mm resolution, range 0.3 to 10.0 m, height 240 mm, PNP/NPN | |
| | Safety light curtain | 2 | Hand protection | 25 mm | 240 mm | 12 | 20 mm | 20 m | Auxiliary output, Blanking, Designated beam output, External Device Monitoring (EDM), External test, Interlock, Muting, Mutual interference prevention, Operating range selection, PNP/NPN selection, Pre-reset, Response time adjustment, Warning zone | IP65/IP67/IP67G | Yes | Safety Light Curtain, F3SG-SRB Standard, Type 2, 25 mm resolution, range 0.3 to 20.0 m, height 240 mm, PNP/NPN | |
| | Safety light curtain | 2 | Arm/leg protection | 45 mm | 240 mm | 6 | 40 mm | 20 m | Auxiliary output, Blanking, Designated beam output, External Device Monitoring (EDM), External test, Interlock, Muting, Mutual interference prevention, Operating range selection, PNP/NPN selection, Pre-reset, Response time adjustment, Warning zone | IP65/IP67/IP67G | Yes | Safety Light Curtain, F3SG-SRB Standard, Type 2, 45 mm resolution, range 0.3 to 20.0 m, height 240 mm, PNP/NPN | |
| | Safety light curtain | 2 | Body protection | 85 mm | 280 mm | 4 | 80 mm | 20 m | Auxiliary output, Blanking, Designated beam output, External Device Monitoring (EDM), External test, Interlock, Muting, Mutual interference prevention, Operating range selection, PNP/NPN selection, Pre-reset, Response time adjustment, Warning zone | IP65/IP67/IP67G | Yes | Safety Light Curtain, F3SG-SRB Standard, Type 2, 85 mm resolution, range 0.3 to 20.0 m, height 280 mm, PNP/NPN | |
| | Safety light curtain | 2 | Finger protection | 14 mm | 320 mm | 31 | 10 mm | 10 m | Auxiliary output, Blanking, Designated beam output, External Device Monitoring (EDM), External test, Interlock, Muting, Mutual interference prevention, Operating range selection, PNP/NPN selection, Pre-reset, Response time adjustment, Warning zone | IP65/IP67/IP67G | Yes | Safety Light Curtain, F3SG-SRB Standard, Type 2, 14 mm resolution, range 0.3 to 10.0 m, height 320 mm, PNP/NPN | |
| | Safety light curtain | 2 | Hand protection | 25 mm | 320 mm | 16 | 20 mm | 20 m | Auxiliary output, Blanking, Designated beam output, External Device Monitoring (EDM), External test, Interlock, Muting, Mutual interference prevention, Operating range selection, PNP/NPN selection, Pre-reset, Response time adjustment, Warning zone | IP65/IP67/IP67G | Yes | Safety Light Curtain, F3SG-SRB Standard, Type 2, 25 mm resolution, range 0.3 to 20.0 m, height 320 mm, PNP/NPN | |
| | Safety light curtain | 2 | Finger protection | 14 mm | 400 mm | 39 | 10 mm | 10 m | Auxiliary output, Blanking, Designated beam output, External Device Monitoring (EDM), External test, Interlock, Muting, Mutual interference prevention, Operating range selection, PNP/NPN selection, Pre-reset, Response time adjustment, Warning zone | IP65/IP67/IP67G | Yes | Safety Light Curtain, F3SG-SRB Standard, Type 2, 14 mm resolution, range 0.3 to 10.0 m, height 400 mm, PNP/NPN | |
| | Safety light curtain | 2 | Hand protection | 25 mm | 400 mm | 20 | 20 mm | 20 m | Auxiliary output, Blanking, Designated beam output, External Device Monitoring (EDM), External test, Interlock, Muting, Mutual interference prevention, Operating range selection, PNP/NPN selection, Pre-reset, Response time adjustment, Warning zone | IP65/IP67/IP67G | Yes | Safety Light Curtain, F3SG-SRB Standard, Type 2, 25 mm resolution, range 0.3 to 20.0 m, height 400 mm, PNP/NPN | |
| | Safety light curtain | 2 | Arm/leg protection | 45 mm | 400 mm | 10 | 40 mm | 20 m | Auxiliary output, Blanking, Designated beam output, External Device Monitoring (EDM), External test, Interlock, Muting, Mutual interference prevention, Operating range selection, PNP/NPN selection, Pre-reset, Response time adjustment, Warning zone | IP65/IP67/IP67G | Yes | Safety Light Curtain, F3SG-SRB Standard, Type 2, 45 mm resolution, range 0.3 to 20.0 m, height 400 mm, PNP/NPN | |
| | Safety light curtain | 2 | Body protection | 85 mm | 440 mm | 6 | 80 mm | 20 m | Auxiliary output, Blanking, Designated beam output, External Device Monitoring (EDM), External test, Interlock, Muting, Mutual interference prevention, Operating range selection, PNP/NPN selection, Pre-reset, Response time adjustment, Warning zone | IP65/IP67/IP67G | Yes | Safety Light Curtain, F3SG-SRB Standard, Type 2, 85 mm resolution, range 0.3 to 20.0 m, height 440 mm, PNP/NPN | |
| | Safety light curtain | 2 | Finger protection | 14 mm | 480 mm | 47 | 10 mm | 10 m | Auxiliary output, Blanking, Designated beam output, External Device Monitoring (EDM), External test, Interlock, Muting, Mutual interference prevention, Operating range selection, PNP/NPN selection, Pre-reset, Response time adjustment, Warning zone | IP65/IP67/IP67G | Yes | Safety Light Curtain, F3SG-SRB Standard, Type 2, 14 mm resolution, range 0.3 to 10.0 m, height 480 mm, PNP/NPN | |
| | Safety light curtain | 2 | Hand protection | 25 mm | 480 mm | 24 | 20 mm | 20 m | Auxiliary output, Blanking, Designated beam output, External Device Monitoring (EDM), External test, Interlock, Muting, Mutual interference prevention, Operating range selection, PNP/NPN selection, Pre-reset, Response time adjustment, Warning zone | IP65/IP67/IP67G | Yes | Safety Light Curtain, F3SG-SRB Standard, Type 2, 25 mm resolution, range 0.3 to 20.0 m, height 480 mm, PNP/NPN | |
| | Safety light curtain | 2 | Finger protection | 14 mm | 560 mm | 55 | 10 mm | 10 m | Auxiliary output, Blanking, Designated beam output, External Device Monitoring (EDM), External test, Interlock, Muting, Mutual interference prevention, Operating range selection, PNP/NPN selection, Pre-reset, Response time adjustment, Warning zone | IP65/IP67/IP67G | Yes | Safety Light Curtain, F3SG-SRB Standard, Type 2, 14 mm resolution, range 0.3 to 10.0 m, height 560 mm, PNP/NPN | |
| | Safety light curtain | 2 | Hand protection | 25 mm | 560 mm | 28 | 20 mm | 20 m | Auxiliary output, Blanking, Designated beam output, External Device Monitoring (EDM), External test, Interlock, Muting, Mutual interference prevention, Operating range selection, PNP/NPN selection, Pre-reset, Response time adjustment, Warning zone | IP65/IP67/IP67G | Yes | Safety Light Curtain, F3SG-SRB Standard, Type 2, 25 mm resolution, range 0.3 to 20.0 m, height 560 mm, PNP/NPN | |
| | Safety light curtain | 2 | Arm/leg protection | 45 mm | 560 mm | 14 | 40 mm | 20 m | Auxiliary output, Blanking, Designated beam output, External Device Monitoring (EDM), External test, Interlock, Muting, Mutual interference prevention, Operating range selection, PNP/NPN selection, Pre-reset, Response time adjustment, Warning zone | IP65/IP67/IP67G | Yes | Safety Light Curtain, F3SG-SRB Standard, Type 2, 45 mm resolution, range 0.3 to 20.0 m, height 560 mm, PNP/NPN | |
| | Safety light curtain | 2 | Body protection | 85 mm | 600 mm | 8 | 80 mm | 20 m | Auxiliary output, Blanking, Designated beam output, External Device Monitoring (EDM), External test, Interlock, Muting, Mutual interference prevention, Operating range selection, PNP/NPN selection, Pre-reset, Response time adjustment, Warning zone | IP65/IP67/IP67G | Yes | Safety Light Curtain, F3SG-SRB Standard, Type 2, 85 mm resolution, range 0.3 to 20.0 m, height 600 mm, PNP/NPN | |
| | Safety light curtain | 2 | Finger protection | 14 mm | 640 mm | 63 | 10 mm | 10 m | Auxiliary output, Blanking, Designated beam output, External Device Monitoring (EDM), External test, Interlock, Muting, Mutual interference prevention, Operating range selection, PNP/NPN selection, Pre-reset, Response time adjustment, Warning zone | IP65/IP67/IP67G | Yes | Safety Light Curtain, F3SG-SRB Standard, Type 2, 14 mm resolution, range 0.3 to 10.0 m, height 640 mm, PNP/NPN | |
| | Safety light curtain | 2 | Hand protection | 25 mm | 640 mm | 32 | 20 mm | 20 m | Auxiliary output, Blanking, Designated beam output, External Device Monitoring (EDM), External test, Interlock, Muting, Mutual interference prevention, Operating range selection, PNP/NPN selection, Pre-reset, Response time adjustment, Warning zone | IP65/IP67/IP67G | Yes | Safety Light Curtain, F3SG-SRB Standard, Type 2, 25 mm resolution, range 0.3 to 20.0 m, height 640 mm, PNP/NPN | |