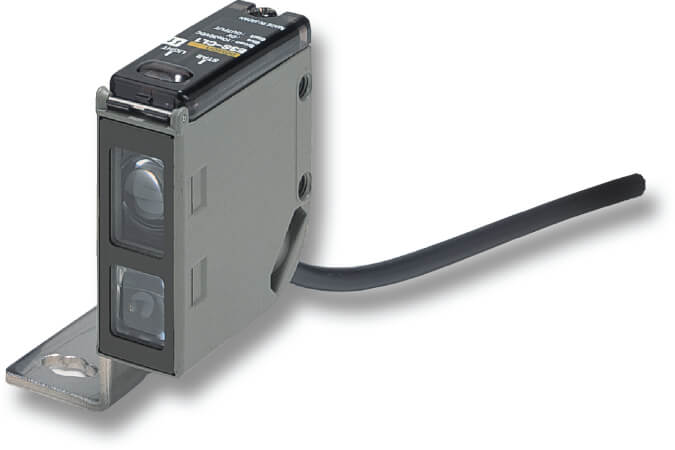 E3S-CL
Distance-settable photoelectric sensor in metal housing
Distance-settable photoelectric sensor in metal housing
Minimal black/white error for highest reliability detecting differently coloured objects (E3S-CL1)
Setting distance up to 500 mm with reliable background suppression
Specifications & ordering info
| Product | Shape | Sensing method | Sensing distance | Sensing distance (min.) | Setting method | Connection method | Cable length | Output type | Operation mode | Response time | Material housing | Thread size | Product Width (unpacked) | Product Height (unpacked) | Product Depth (unpacked) | Type of light | Spot size | Power supply voltage | Degree of protection (IP) | Description | |
| --- | --- | --- | --- | --- | --- | --- | --- | --- | --- | --- | --- | --- | --- | --- | --- | --- | --- | --- | --- | --- | --- |
| | Cuboid | Background suppression | 200 mm | 5 mm | Manual adjustment | Cable | 2 m | PNP/NPN | Dark-ON, Light-ON | 1 ms | Zinc | Other | 15.4 mm | 43.7 mm | 40 mm | Polarity free red light | 18 mm | 10-30 V | IP67 | Photoelectric sensor distance setting BGS, 5-200mm, NPN/PNP, 2m cable | |
| | Cuboid | Background suppression | 200 mm | 5 mm | Manual adjustment | Cable | 5 m | PNP/NPN | Dark-ON, Light-ON | 1 ms | Zinc | Other | 15.4 mm | 43.7 mm | 40 mm | Polarity free red light | 18 mm | 10-30 V | IP67 | Photoelectric sensor distance setting BGS, 5-200 mm, NPN/PNP, 5 m cable | |
| | Cuboid | Background suppression | 200 mm | 5 mm | Manual adjustment | M12 pigtail connector | 0.3 m | PNP/NPN | Dark-ON, Light-ON | 1 ms | Zinc | Other | 15.4 mm | 43.7 mm | 40 mm | Polarity free red light | 18 mm | 10-30 V | IP67 | Photoelectric sensor distance setting BGS, 5-200mm, NPN/PNP, M12 pigtail | |
| | Cuboid | Background suppression | 500 mm | 5 mm | Manual adjustment | Cable | 2 m | PNP/NPN | Dark-ON, Light-ON | 2 ms | Zinc | Other | 15.4 mm | 43.7 mm | 40 mm | Infrared light | 60 mm | 10-30 V | IP67 | Photoelectric sensor distance setting BGS, 5-500mm, NPN/PNP, 2m cable | |
| | Cuboid | Background suppression | 500 mm | 5 mm | Manual adjustment | Cable | 5 m | PNP/NPN | Dark-ON, Light-ON | 2 ms | Zinc | Other | 15.4 mm | 43.7 mm | 40 mm | Infrared light | 60 mm | 10-30 V | | Photoelectric sensor distance setting BGS, 5-500mm, NPN/PNP, 5m cable | |
| | Cuboid | Background suppression | 500 mm | 5 mm | Manual adjustment | M12 pigtail connector | 0.3 m | PNP/NPN | Dark-ON, Light-ON | 2 ms | Zinc | Other | 15.4 mm | 43.7 mm | 40 mm | Infrared light | 60 mm | 10-30 V | IP67 | Photoelectric sensor distance setting BGS, 5-500mm, NPN/PNP, M12 pigtail | |
Compare products
Show more products
Accessories
Reflectors for retro-reflective photoelectric sensors
 

 

 

 

 

 

 

 

Recommended for fine beam coaxial models (E3NC-LH03,
E3S-DB, E3T-SR4)

 

 

 

 

Round shape with centered mounting hole for simple screw mounting
Note: the ambient operating temperature is -25°C to 55°C unless otherwise specified
 

 

 

 

 

 

 

 

 

 

 

 

 

Recommended for fine beam and
laser sensors (E3NC-LH03, E3Z-LR, E3S-DB_2)

 
Note: Note: the ambient operating temperature is -25°C to 55°C unless otherwise specified
How can we help you?
If you have a question or would like to ask for a quote, please contact us or send a request.
+27 (0)11 579 2600
Contact us
Contact me E3S-CL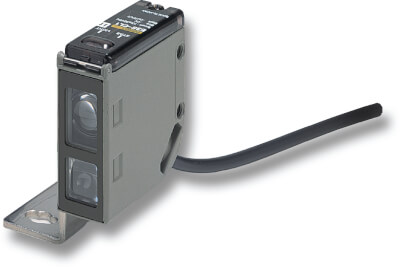 Thank you for submitting your request. We will come back to you as soon as possible.
We are experiencing technical difficulties. Your form submission has not been successful. Please accept our apologies and try again later. Details: [details]
Download
Request quotation
Request quotation
Quotation for E3S-CL
By completing this form you can request a quotation. Your personal details will be handled confidentially.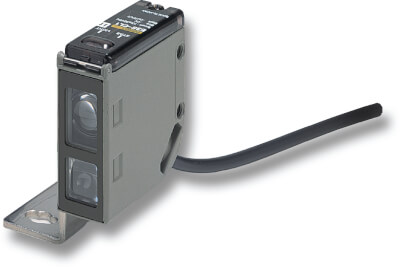 Thank you for requesting a quotation. We will provide you with the required information as soon as possible.
We are experiencing technical difficulties. Your form submission has not been successful. Please accept our apologies and try again later. Details: [details]
Download