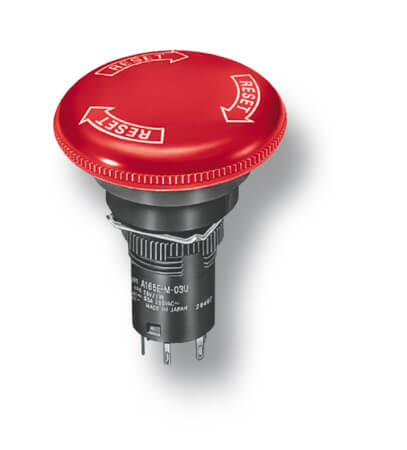 A165E
Emergency stop switch
The A165E line-up offers E-Stop switches with various head types. For flexible application, a wide range of accessories is provided. To set up easy installation and maintenance, various contact combinations are available.
Direct opening mechanism with minimum contact separation of 3mm
Safety lock mechanism prevents misuse
Short mounting depth
Modular construction; easy installation using snap-in switch
Specifications & ordering info
Ordering information
Standard load
(125 VAC at 5 A,
250 VAC at 3 A,
30 VDC at 3 A)
Note: The above models have a surface indication of "RESET." Models with "STOP" indication are also available. For further information, contact your Omron representative.
Accessories (order separately)
Used for covering the panel cutouts for future panel expansion.

Useful for repetitive mounting. Be careful not to tighten excessively.
Specifications
1,000 VAC, 50/60 Hz for 1 min between terminals of same polarity
2,000 VAC, 50/60 Hz for 1 min between terminals of different polarity and also between each terminal and ground
1,000 VAC, 50/60 Hz for 1 min between lamp terminals 1

Operating: -10 to 55°C (with no icing or condensation)
Storage: -25 to 65°C (with no icing or condensation)
---
How can we help you?
If you have a question or would like to ask for a quote, please contact us or send a request.
+27 (0)11 579 2600
Contact us
Contact me A165E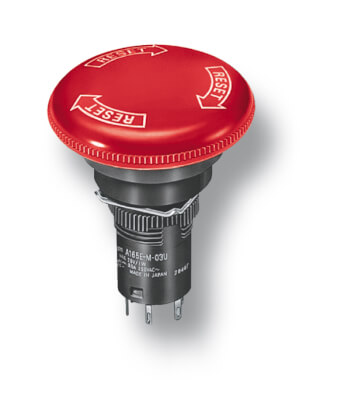 Thank you for submitting your request. We will come back to you as soon as possible.
We are experiencing technical difficulties. Your form submission has not been successful. Please accept our apologies and try again later. Details: [details]
Download
Request quotation
Request quotation
Quotation for A165E
By completing this form you can request a quotation. Your personal details will be handled confidentially.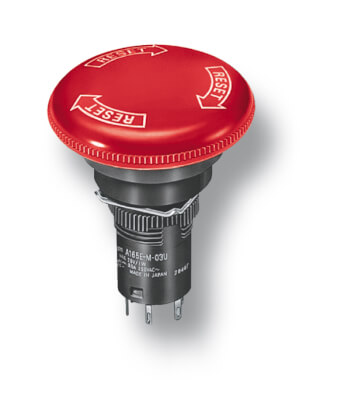 Thank you for requesting a quotation. We will provide you with the required information as soon as possible.
We are experiencing technical difficulties. Your form submission has not been successful. Please accept our apologies and try again later. Details: [details]
Download