OMRON robots help Grupo Antolin achieve a modernized and sustainable vehicle interior factory where people and machines work in harmony.
Major trends in the automotive industry – including an increasing emphasis on issues such as electrification, digitalization, and sustainability – are also driving changes in vehicle interiors. One of the largest international players in this sector is Grupo Antolin. As a key player at global automotive supply chain and high value manufacturing leader, the strategy of the company, Adv. Manufacturing 4.0, looks into integration of digital technology in the operations. One of the focus areas is the reduction and optimization of movements in internal logistic. Introducing autonomous mobile robots (AMRs) and collaborative robots (cobots), manufactured and supplied by OMRON, helps achieve a modernized and more sustainable factory where people and machines are working in harmony.
Grupo Antolin is a global supplier of technological solutions for automotive interiors. The company supplies the world's leading car manufacturers through 145 factories in 26 countries. The company's operations cover the complete component cycle - from concept and design through to development and delivery. It offers high added value products via four Business Units: Overheads, Cockpits & Doors, Lighting & HMI, and Electronic Systems.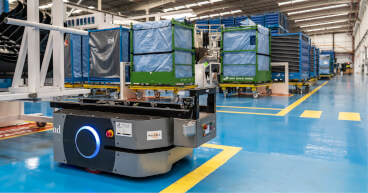 Changing needs
Since 2001, Aragusa, one of Grupo Antolin's plants in Burgos has pioneered the manufacture of auto interior parts, which can be used in a wide range of OEM's. Until recently, tasks such as loading and transporting car interior components from the injection area to the assembly area were carried out manually. However, to keep pace with global changes, continuous improvement, and digital strategy, Antolin looked for an improvement and efficiency of processes and wanted to automate such procedures, which in turn would help it to develop a more sustainable business model. This would also free up employees to work on high-value production processes.
The company chose OMRON and a system integrator to supply the hardware and software solution needed. The system integrator is owned by Grupo Antolin and is a technology consultancy dedicated to the optimisation, development, innovation and implementation of technological processes and solutions for industrial companies.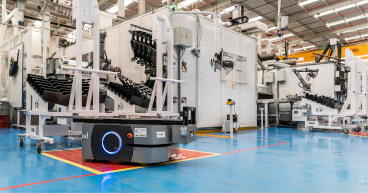 The new autonomous automatic transport solution needed to replace the manual processes. One of the key criteria was OEE overall equipment effectiveness. Making a positive contribution of OEE rolled of the injection and assembly systems.
Contact us for more information