Where is the future heading, intralogistics? Tips for more efficiency
Published on November 15, 2022 in AI
Sometimes we focus so much on the big picture that we forget the smaller and yet so important processes that characterize smart production. One example is intralogistics, i.e. the flows of materials and goods that take place on a company's premises or in a production hall. A recent study found that more than 80 percent of the companies surveyed consider the increased use of AI and automation in intralogistics to be necessary to meet challenges such as the shortage of skilled workers or growth plans.
Automotive companies that want to meet market and customer requirements, increase efficiency and become more sustainable must come up with new ideas. Energy costs, the gas crisis, and rising inflation make this task even more difficult. Smart factory concepts that combine innovative automation, digitalization, and smart intralogistics approaches can provide valuable support. Some speak of Industry 4.0 in this context, others of the "factory of the future", still others prefer Industrial Internet of Things (IIoT). But no matter which term you favor: The most important thing is to become active now and to rely on reliable partners. Intralogistics is a good starting point for quickly initiating change. Because action is urgently needed: many companies are currently severely limited due to the shortage of skilled workers. Modern technologies such as mobile robots can provide a remedy.
Synergies in ACES increasingly important
The ACES trend – short for Autonomous, Connected, Electric, and Shared – requires holistic rethinking. It is not about improving individual processes, but about creating synergies and transforming production processes. Big Data takes over, the cooperation of man and machine must be forced, safety, data protection, and ethical issues must be strategically addressed. The realization of a decentralized management system is also being driven forward in the course of ACES development.
And what do you have to consider in transport and intralogistics? Modern intralogistics include innovative robotic solutions such as mobile robots. The car company BMW, for example, relies on mobile LD robots from OMRON (tcm:502-80433) to transport material. These Autonomous Intelligent Vehicles (AIVs) are equipped with an active and height-adjustable conveyor attachment (load handling device) developed by system integrator cts. Intralogistics also includes delivery logistics, internal movements, conveyor belts, forklifts, high-bay warehouses, SCARA robots, cobots, and more: many areas where companies can start to improve processes, relieve employees, save time and become more efficient. Example battery production: A battery in the e-mobility environment is moved and transported very frequently until its completion. This requires numerous technologies and solutions that support intralogistics and are closely interlinked.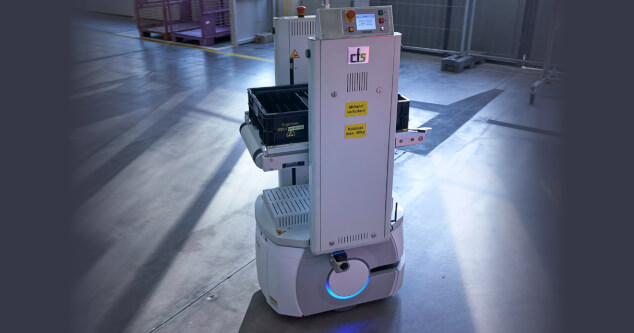 Industrial ecosystems are gaining in importance
The cooperation between cts and OMRON impressively underpins the growing importance of technology partnerships in the Smart Factory, because the future of the automotive industry cannot be realized single-handedly. In this context, a recent
IDC study
predicts that as early as 2026, almost one-third of all revenues of the largest companies worldwide will come from shared data, applications, and operational initiatives within industry ecosystems. For OMRON, such collaborations have always been part of the business strategy.
Linking workflows
One example is Synaos, an intralogistics provider that supports companies in covering transporting processes via software and linking the various workflows with each other. This includes supply chain, ERP, ECM, purchasing of raw materials, manufacturing, or delivery. OMRON supports companies on their way towards the Smart Factory with partners such as Synaos in the ecosystem. With the help of the standardized communication interface VDA 5050, the potential of mobile robotics can be better exploited, as it allows vehicles from different manufacturers to be integrated more seamlessly into a fleet control system and operated more efficiently. Order and traffic management can be combined on one user interface.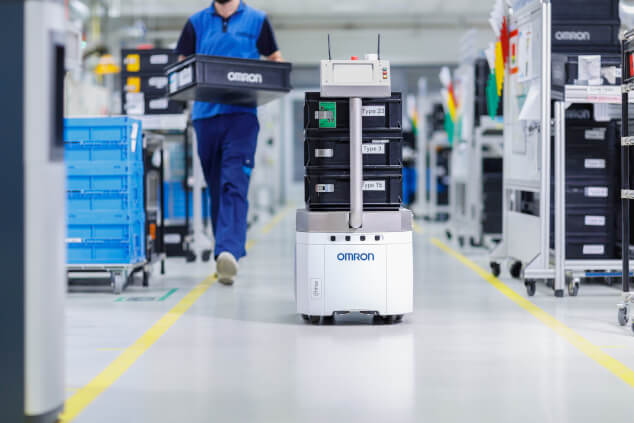 AMR without expensive conversions
OMRON's autonomous mobile robots (AMR) can help to significantly increase productivity in manufacturing and logistics processes. They improve throughput, minimize errors, optimize material traceability and ensure that employees can focus on tasks that require complex human skills. In contrast to traditional automated guided vehicles, OMRON's AMRs are oriented to the spatial conditions of the respective facility and do not require costly conversions.
As you can see, intralogistics offers numerous possibilities. It is precisely this flexibility that we urgently need to lead the automotive industry into the future.
Contact us for more information