Riders of the storm: navigating economic uncertainty by turning social challenges into tech opportunities
Published on December 06, 2022 in Industry 4.0
One of the questions I am often asked is what our strategy is, as an industrial automation business, for maintaining stable growth in a volatile and increasingly unpredictable global economy.

My answer, as you might imagine, is not one sentence, although it is rooted in one concept: SINIC.

SINIC stands for 'Seed-Innovation to Need-Impetus Cyclic Evolution' and is a theory that was developed by OMRON's founder, Dr. Kazuma Tateisi, in 1970.

According to this philosophy, science, technology and society share a cyclical relationship, mutually impacting and influencing each other. Scientific breakthroughs help society to advance and social needs spur on technological development.

OMRON Europe has always followed this philosophy, and has spent the last decade laying the foundations for creating value-adding solutions to present day social and economic challenges.
The best laid plans: a three-phase strategy
The first phase of this strategy focused on laying the foundation for the company to reflect our increasingly globalized customer base and the globalization of society as a whole. We needed to integrate our solutions within a global offer, rather than offering different solutions to customers in different regions. At the same time, we wanted to insulate against ongoing supply chain instability and reduce our carbon footprint through less transportation of goods globally.
We have built more flexibility into our production processes and adapted our capacity to component scarcity cycles.  We have duplicated production lines across the world so that when there are shortages in one region we can produce in another.
The second phase was reviewing our portfolio to establish whether it was aligned and ready for this push on innovation. We concluded we needed to add some new products and develop some services. We did this through a combination of mergers & acquisitions and industry partnerships in technologically disruptive areas such as Artificial Intelligence, 5G and robotics. We also restructured to increase the resources available to growing domains such as eco-mobility.
The third phase, once we had completed our portfolio, was to create value-adding solutions. We never offer individual products - always solutions. Our aim is not to sell controllers or safety systems, for example, it is to sell connected solutions. This is encapsulated in our i-Automation! approach to innovation - which is how we generate value through our solutions. All our innovation is underpinned by the three 'i' pillars: integration (control evolution), intelligence (developing intelligence through ICT) and interaction (human-machine collaboration).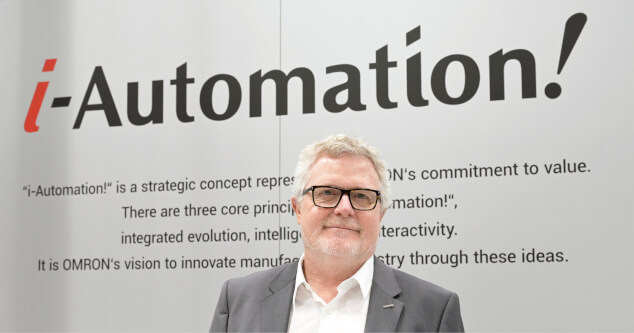 A strategy for the future
Now we are ready to implement these solutions in the context of the challenges that are facing our customers - and society as a whole - in the years to come. This is the basis of our 'Shaping the Future 2030' (SF2030) strategy, and our i-Automation innovation concept.
We predict that the next decade will see the transition from an 'optimization' society, in which consumption is the main driver and quantity is valued more than quality, to an 'autonomous' society, which prioritizes quality, sustainability and the development and wellbeing of the individual.
This societal shift will influence and inspire the solutions we deliver. The transition to an autonomous society will be accompanied by social challenges such as climate change, an ageing population and growing economic inequality. These social issues will need new tech-enabled solutions, which is where we are targeting our contribution. Through SF2030 we will address these challenges by helping customers achieve carbon neutrality, digitalization and improved quality of life for staff. We will help our customers maximize productivity and energy efficiency, and create harmonious workplaces where people can realize their potential and businesses can improve operational efficiency.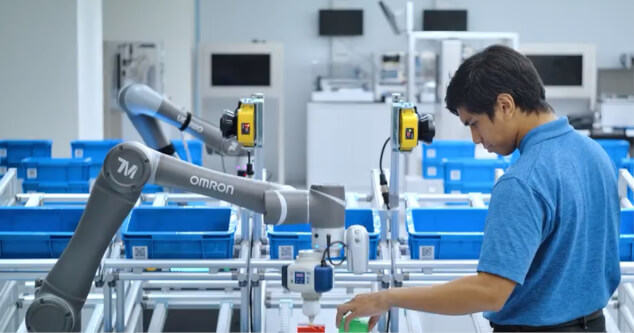 From collaborative to harmonised automation
One way in which we will do this is through harmonised automation solutions. Industrial automation has historically been viewed as a replacement for labour. With collaborative automation, we moved away from that, towards workers and machines working alongside one another. We believe that this will evolve into harmonised automation, an approach that will help businesses maximise human capabilities through people-oriented automation technologies. AI-assisted high-speed control, for example, can help less experienced workers to make better decisions. 
In the last three years we have faced a series of unprecedented crises: Covid-19, component shortages, supply chain instability, labour shortages, war in the Ukraine, rising energy costs and now inflation. Our strategy involves future-proofing our own business against these uncertainties whilst using our key suite of technologies - sensing, robotics, safety and artificial intelligence - to help our customers solve the problems they face as a result of societal challenges. With solid but agile structures in place and a clear strategic direction for the future, we are confident we can deflect whatever curveballs are thrown at us.
Contact us for more information