Flexible Manufacturing Roadshow: Taking the factory of the future across Europe
Published on June 16, 2022 in Flexible Manufacturing
What if you could see, feel and touch the factory of the future? What does it take to realize flexible, efficient, and sustainable production? This is the idea behind OMRON's unique Flexible Manufacturing Roadshow travelling across Europe this year.  The roadshow features exclusive demonstrations of human-machine collaborative solutions not usually seen outside of a factory setting due to their size and scale. 
Enabling flexible and intelligent production improvements, the roadshow's demonstrations showcase a range of practical solutions for the factories of the future. The first event took place at OMRON's Automation Center for Autonomous Mobile Robots in Annecy, France in December 2021, and during the first half of 2022, the tour has already travelled to Milan, Barcelona and across the Nordics, before moving on to the UK.
In addition to experiencing a real flexible factory, the visitors have a chance talk with the experts from OMRON and system integrators, bringing practical, real-world tips for seamlessly integrating OMRON's automated solutions into a wider production ecosystem. 
Some of the key challenges affecting manufacturers today are labor scarcity, reducing energy consumption and improving OEE. At the local events, customers can get a real feeling of the flexible manufacturing systems of the future. The goal is to inspire manufacturers to see what is possible on their production lines, enabling their facilities to remain agile for years to come.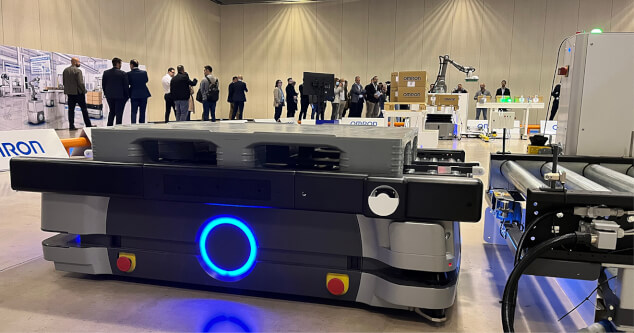 To meet the needs of palletizing, transportation and traceability in the factory of the future, on display are large-scale human-machine industrial automation solutions including fully autonomous mobile robots, as well as flexible palletising and de-palletizing and machine vision and traceability solutions, working seamlessly and safely together.
"This has truly been a team effort, and I'm very delighted with the positive response we've received at each event," said Eduardo De Robbio, Robotics Business Development Manager at OMRON Europe. "As you can imagine, from designing and building the demonstrations, to finding the right locations and organizing the logistics, this has been a unique experience for our team and our partners," De Robbio continues. "However, it has definitely been a success, and I'm very proud that we have been able to bring some of our most dynamic, collaborative human-machine automation solutions out of the factory and on tour around Europe for the first time ever."