Edge, Fog and Cloud clarified
Published on September 16, 2019 in AI
What do the terms Edge, Fog and Cloud mean in relation to artificial intelligence in industrial manufacturing? They are actually different layers of the Industrial Internet of Things (IIoT). Here is a quick overview on how we at Omron describe these terms in relation to AI, using an analogy with a nervous system.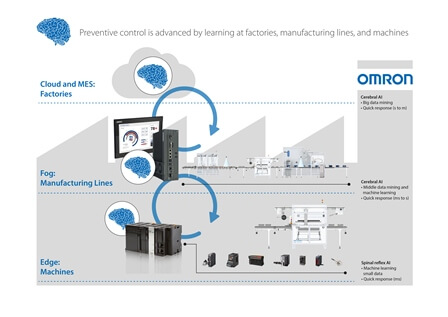 Edge: Spinal reflex AI
You can compare data mining at the Edge to a spinal reflex. Lines and devices are monitored with real-time sensors and data on the machine level can be processed in microseconds. You can monitor a machine condition real-time but the data volume is limited. Real-time data processing at the Edge enables an immediate response on an abnormal situation in a process. With AI at the Edge, manufacturers can control complexity and security. Of course, technology is required that offers seamless integration to the Cloud directly from the machine controller with embedded secured IoT protocols. To translate information into action, manufacturers need efficient control and monitoring for a more natural, proactive relationship between operator and machine.
Fog and Cloud: Cerebral AI
A fog environment puts intelligence at the local area network (LAN). Fog computing, includes the data processing, storage and networking technology that sits beneath the Cloud. Big Data mining in the Cloud can be called 'Cerebral AI', as Cloud resources allow manufacturers to analyze data, collected from an entire factory over several years. However, communication between the manufacturing floor and the Cloud requires seconds to minutes of processing time. This also requires open and secure standards such as the MQTT protocol and the OPC UA communications standard for safe and easy transformation of machine and system data into high value information. Reacting to tiny process deviations in microseconds is impossible for AI in the Cloud.
Contact Omron specialists
Do you have any questions or would you like personal advice? Feel free to contact one of our specialists.