Choosing a robot for a smart factory
Published on April 02, 2021 in Flexible Manufacturing
Anyone planning to move towards a smart factory needs to choose carefully when considering possible robotic solutions. Should it be an industrial robot or a collaborative robot (cobot)? Autonomous mobile robot (AMR) technology or a fixed selective compliance assembly robot arm (SCARA)? The answer will depend on your specific needs.
The World Robotics 2020 Industrial Robots Report
says that there's been an 85% increase in the number of industrial robots worldwide over the past five years. And despite the recent pandemic, sales figures remain high. The use of robots is also broadening. Cooperation between people and robots is high on the agenda of many CEOs who want to reduce employee workloads, increase efficiency and safety, and improve processes.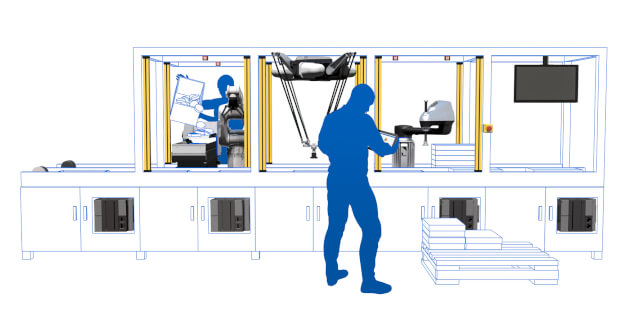 But how do you know which robotics solutions to choose? Robots differ according to technology, type, structure and application. They include fixed robots; AMRs (which are replacing track-bound systems in many factories); standard industrial robots (which usually work independently rather than interacting with people); and cobots (which can support people – for instance, when removing goods from crates or refilling them).
The different types of kinematic construction include Cartesian, SCARA, articulated arm and delta/parallel. Cartesian robots are useful for assembling small parts, but also for very long part transfers, such as suspension cranes in production halls. SCARA robots work much faster than Cartesian robots. They are suitable for pick-and-place applications and other handling processes with low payloads (e.g. in assembly, packaging or material handling). Articulated (or jointed) arm robots are often used in process-intensive applications, such as welding, painting, adhesive application, assembly or material handling. Delta or parallel robots often support applications where products remain on the same surface during the pick-and-place process. The low-maintenance parallel robot is an overhead assembly solution that's suitable for high-speed applications and lightweight products.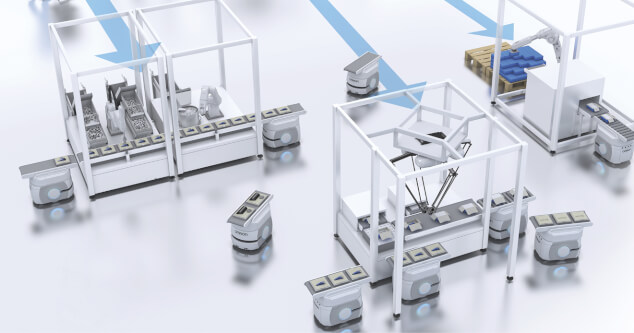 Selecting a robot
The choice of robot will depend on your location, production focus and individual needs. The range, load capacity, movement requirements, expandability, and interaction with technologies such as artificial intelligence (AI) or image processing can all affect which robot would be best for you. Questions you need to ask include:
What products need to be manufactured or processed and how?
Which movements should the robot perform?
What distances will it need to cover?
Should in-house experts or a machine operator control the robot?
What type of part production and throughput is needed? (Are repeatability or precision essential?)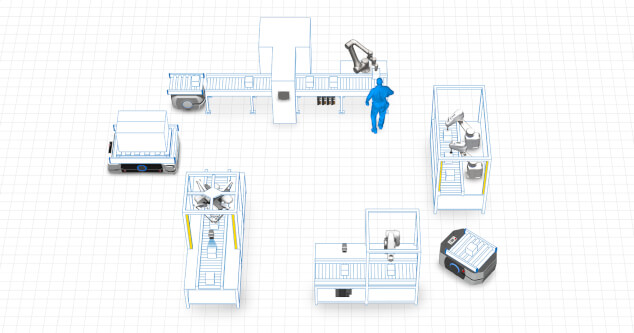 One extra element to consider is image processing. This is becoming increasingly important for improving the productivity of robot automation. Image processing systems increase flexibility and reduce costs, because parts don't have to be fixed. A vision solution integrated into the robot system also allows the simultaneous inspection of parts during the machining process, which reduces cycle times and increases throughput.
Fixed or flexible?
Another key question is: would a permanently mounted system or a flexible cobot be better?
Fixed-mounted robots offer high speeds, precision, re-programmability, safety and high-performance technology. However, experts are needed to reprogramme the robots, which also require significantly more space. Companies with short production cycles and throughput times might find traditional assembly robots suitable because they work faster.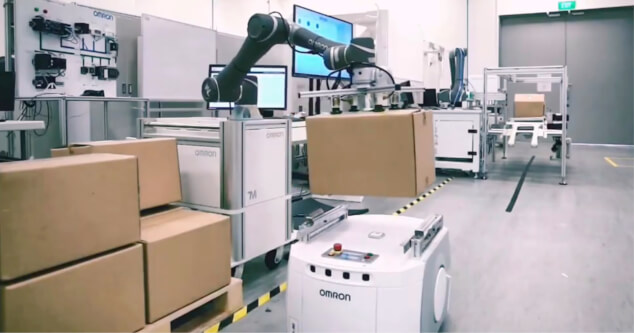 Cobots are easier to use and are ideal for high-mix, low-volume scenarios. They offer integrated security, can cooperate with employees, and are more flexible and mobile. They are also much simpler to programme and their software is more intuitive to understand, so external specialists aren't usually needed. They can also be mounted on mobile robots. Cobots are significantly slower, especially when working with people. However, they are safer when operating near people.
Another important consideration is connectivity. For example, OMRON's cobots can be easily connected to machine controllers and have integrated vision technology with various camera options. All machine information is accessible via the controller. The cobot should also be able to interface with third-party technologies to give further flexibility.
Finally, think about the return on investment (ROI). Fixed, more complex robots usually require training and external expertise, and often need additional hardware for more extensive tasks and protection (such as light fences or cages). Cobots such as OMRON's TM series provide simpler online tutorials and quick start-ups and are easier and less expensive to expand - and give a shorter ROI.
Conclusion
Traditional industrial robots are often more suitable for high-speed, high-precision assembly applications. Cobots are ideal for palletising, machine maintenance, material handling, machine loading, order picking, packaging and testing. They close a gap in the robotics market for applications in which flexibility is more important than speed.
However, there's no single technology that's suitable for every application. Therefore, a detailed catalogue of requirements and fixed project goals are vital for a successful robotics project. The use of AI is also becoming increasingly important for real-time applications. Production lines and devices are monitored with real-time sensors, and data is collected and processed at high speed to quickly detect any anomalies. Finally, if you're seeking to use robots to meet future challenges, now is the time to find a robotics partner that will be able to meet your needs – whatever these are.
More information on robotic solutions