Complete renewal of the compact controller range
Two new models released in the NX1P family of compact Sysmac Machine Controllers for maximum scalability and flexibility
In addition to the release of the new CP2E all-in-one programmable micro PLC, we have now also introduced two NX1P2-9B models in our NX1P Series of compact controllers. Even though compact in size, the new models are powerful in function, including our Push-In Plus wiring technology.
OEMs and manufacturers today need to manage the total cost and profits throughout the lifecycle of their machines. They require connected solutions to fulfill Industry 4.0 requirements, with easy-to-use software to reduce development time, scalability and backward compatibility for maintenance, as well as the ability to support flexible production with fast-changing trends.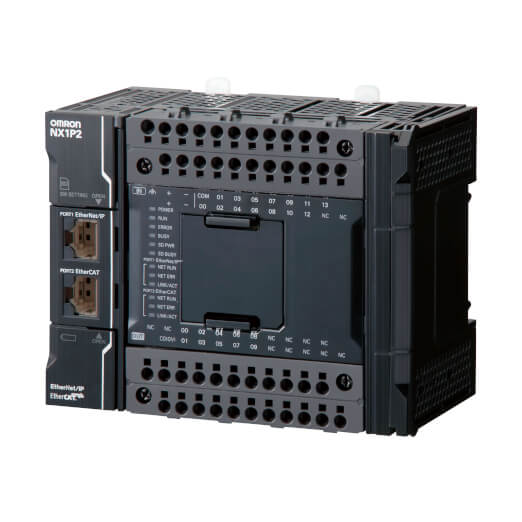 Key features and benefits:
The NX1P2 family with built-in Ethernet IP and EtherCAT interface offers condition monitoring for predictive maintenance, a perfect sealing filter for thermoforming machines, KPI production measurement, as well as supporting automation for mobile robots.
1. Ensure quality with traceability 
Ethernet IP, EtherCAT (8 nodes) and IO-Link for a direct connection to advanced machine vision systems for accurate identification, inspection and verification 
Synchronous data enables monitoring all parameters simultaneously
Serial communication collects data from serial devices
FTP and MQTT protocols enable cloud connectivity
2. Operational excellence through predictive maintenance 
Dedicated Sysmac Library for condition monitoring and key asset devices monitoring 
High-speed analog input for environmental monitoring 
Continuous edge monitoring of key assets enables measuring machine efficiency and enables preventive and predictive maintenance
3. Flexible production and fast changeovers 
Flexible motion functions and IO-Link connectivity 
Synchronous motion control and PTP over EtherCAT
IO-Link for sensor connectivity for dynamic configuration
FTP access for remote configuration of production recipes
4. Time to market reduction 
Reduced time and cost for wiring, installing and programming 
Innovative Sysmac libraries to support various applications such as sealing, weighting, measuring, and winding/unwinding
Programming modularity and scalability
Network connectivity with one Ethernet cable to connect multiple devices
Integrated software with simulation 
Time saving with Push-In Plus wiring technology
Back up, restore, and verify data in the controller with SD card
Follow OMRON Industrial Automation Europe on Linkedin