OMRON joins forces with OnRobot to provide an even greater choice of collaborative robotic solutions
OMRON Industrial Automation Europe has signed a new distribution agreement with OnRobot, the Danish manufacturer of tools for collaborative robot (cobot) applications. This will enable OMRON to offer OnRobot's products – which can be fully integrated with the OMRON TM cobot – to its customers in Europe, Middle East and Africa (EMEA).
The agreement between the two companies will give their customers greater agility when implementing collaborative solutions. These are increasingly regarded as being one of the most effective ways of boosting the performance of production lines.
Enhancing collaboration
Collaborative robots integrate with other equipment – a key factor in moving towards an intelligent manufacturing environment in which people and machines work in harmony. Meanwhile, the tools used with robots are a vital element in enabling them to be used in a wide range of applications, such as as materials handling and removal, assembly and machine tending. The ease with which OnRobot's products can be integrated with the OMRON TM cobot were a key factor in the decision to forge the new agreement. OnRobot's One-System Solution provides a unified interface for effortless plug-and-play integration. In addition, the intuitive programming for these robots and tools requires no coding, and no pendant, thanks to the easy-to-use hand-guided programming and the TMFlow flow chart software.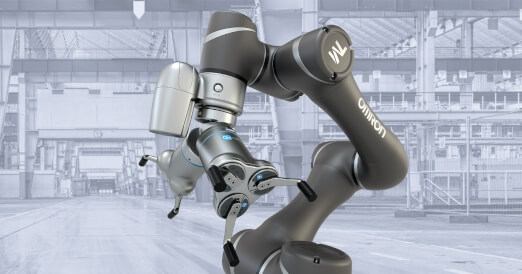 Enrico Krog Iversen, OnRobot's CEO, explains: "OnRobot's products are 100% compatible with the OMRON TM robot, which enables manufacturers to have a fully collaborative, secure and flexible solution that works from Day 1."
Fernando Vaquerizo, Fixed and Cobots Product Marketing Manager at OMRON Europe, adds: "By signing this supply agreement, we are further expanding the portfolio of collaborative robotic solutions available to our customers, especially in terms of the versatility and ease of use of our equipment."
About OnRobot
OnRobot's product range features a wide assortment of tools for collaborative applications, including: electric, vacuum and magnetic grippers; the award-winning Gecko gripping technology; force/torque sensors; screwdriver, sander kits; and tool changers. This new combination of offerings from OnRobot makes it quicker and simpler to automate tasks such as packaging, quality control, materials handling, machine tending, assembly, and surface finishing. Headquartered in Odense, Denmark, OnRobot also has offices in Los Angeles, Dallas, Soest (Germany), Barcelona, Warsaw, Shanghai, Tokyo, Seoul, Singapore and Budapest. For more information, visit www.onrobot.com
Follow OMRON Industrial Automation Europe on Linkedin