OMRON Adds Selectable Autonomy and FLOW iQ to FLOW Core Fleet Management Software
Driving flexible manufacturing with mobile robots in complex material transport applications
Responding to changing consumer needs and labor scarcity, manufacturing companies today are looking for ways to increase flexibility and efficiency in intralogistics operations. To respond to this need, OMRON has added a Selectable Autonomy functionality to the Fleet Operations Workspace (FLOW) Core software for its line of autonomous mobile robots (AMRs).
The latest software tools from OMRON can help build a flexible manufacturing system whilst improving the fleet performance. OMRON's autonomous mobile robots can now simulate the behavior of AGV's but without any magnetic tape nor physical guides.
Miguel Garcés, European Mobile Robots Product Marketing Manager at OMRON Europe, comments: "Thanks to Selectable Autonomy, users can choose the level of autonomy for each robot to further improve fleet performance. For example, companies can decide when they want the robot to move along the same path repeatedly and bring a more flexible and new level of motion control to complex material transport applications."
In addition to autonomy, fleet analytics is crucial in intralogistics applications. OMRON's Fleet Operations Workspace iQ (FLOW iQ) fleet analytics engine enhances the core user experience with powerful data collection and analytics through an intuitive user interface. The FLOW iQ provides the visualization tools to generate graphics on the fly, and the intelligence to maximize application uptime and lifetime.
The benefits of Selectable Autonomy include:
Improved cycle time of up to 15% for actual fleets. Improvement can be even greater, depending on application
Fewer deadlocks in doorways and narrow spaces
Fewer traffic control devices needed in the facility map
More consistent motion of robots leading to improved sense of safety for human operators working in vicinity
The benefits of FLOW iQ include:
Quickly view how many robots are working, charging, waiting or reporting an error
Visualize the performance of the fleet with flexible job statistics
Examine the wireless quality map data to pinpoint network weak spots
Track and maintain AMR and battery health with intelligent fault and battery tracking
Tailor fleet traffic with localization and position heat maps to maximize cycle time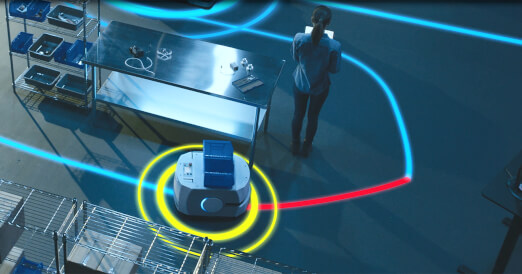 Follow OMRON Industrial Automation Europe on Linkedin