New LD-250 mobile robot to move payloads up to 250kg
Industry first to control different types of mobile robots via one system.
The new LD-250 mobile robot from Omron can handle a payload of 250kg and is the strongest and newest addition to our LD series of mobile robots.
Together with the Fleet Manager, which for the first time in the industry enables the control of multiple mobile robots with different payloads through one system, it will help realize a more flexible and optimized autonomous material transport system.
The new LD-250 can be used to transport large automobile components such as transmission blocks and voluminous packaging materials. To optimize the autonomous material transport system, our industry-first Fleet Manager can control a diverse fleet of up to 100 of Omron mobile robots that can consist of different payloads and capabilities, by conducting traffic management, battery management, and navigation of vehicles.
Highlights of the new LD-250 include:
Higher Payload and Sturdier Structure: With a payload of 250kg, the LD-250 is an impressive addition to our LD mobile robot series.
The LD-250 is built with sturdier metal skins that can withstand unintended external impacts and more demanding duties. It is suitable for example for transporting bulky items such as transmission blocks, seats or wire harnesses in the automotive industry, as well as voluminous packaging materials in the food and commodities industry.
Highly Mixed Fleet: With the industry-leading Fleet Manager, users can easily manage diverse mobile fleets of up to 100 robots, including the new LD-250. They can be controlled through the same system without worrying about compatibility or performance.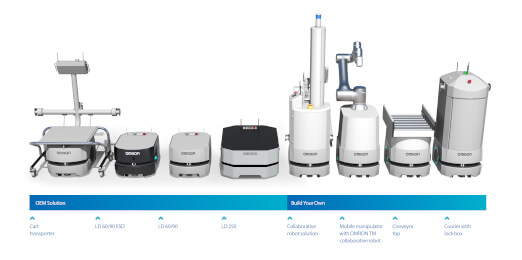 Faster ROI: The LD-250 allows customers to load more onto a mobile robot, making fewer trips with heavier batches, increasing the return on investment. Customers can mix and match LD models to create the most efficient and flexible material transport system possible.
Customizable: The LD series offers the most customizable mobile solution for industrial environments. The LD-250 can easily be customized with conveyor tops, courier systems, and adaptive material handling mechanics to create a solution that best meets customer needs. LD-250 also takes advantage of Omron's ability to customize mobile fleets with accessories that improve performance, such as HAPS*1, side lasers, and the Acuity*2 vision localization.
The integration of the LD-250 and Omron TM Collaborative Robots will also open up a new market for heavy-duty "mobile manipulators" that can handle manipulation tasks along with material transport.
The new LD-250 is now available through our sales offices worldwide.
*1 HAPS: High Accuracy Positioning System
*2 Acuity: The patented Acuity technology provides an additional method of "localization," helping the mobile robot adjust to frequently changing environments.
Follow OMRON Industrial Automation Europe on Linkedin