New CP2E Series all-in-one controller
Programmable micro PLC is designed to support data collection and machine to machine communication. Extended temperature range increases reliability in special applications.
Our new CP2E Series all-in-one controller integrates I/O ports, communication, and axis control needed for machine control, providing advanced control and IoT connectivity for compact machines.
The performance of connected machines can be visualized through simple programming, helping improve productivity and quality in manufacturing as well as other industries. Companies using compact machines also need to utilize production data, visualize machine performance, and prevent sudden failure and stoppage.
The CP2E Series offers a cost-effective way to add IoT to compact machines. It collects machine performance data and shares the necessary information with the host network. The pre-defined program data, in the form of a function block, reduces program development work and improves quality through standardization. This allows virtually anyone to set up machines that perform complex control, reducing the time required for programming, test, debugging, and maintenance. Moreover, the extended operating temperature range ensures reliable use in machines for non-manufacturing industries where the demand for use of controllers is increasing.
The CP2E is fully backwards compatible with current Omron solutions, such as the CP1 Series.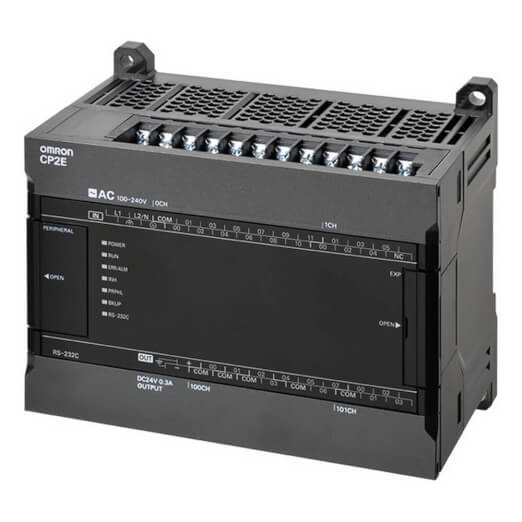 Key Features
1. Improved connectivity for Ethernet and serial devices
2 Ethernet ports with Ethernet switching function: Host and HMI connectivity
Up to 3 serial ports by mounting option board: Open connectivity to serial devices
2. Reduced effort to realize complex machines
OMRON Function Blocks for positioning and control
Simplified positioning: 4-axis positioning function with linear interpolation
Positioning on mark with one instruction
PID control with autotuning function block for stable temperature control
3. Install and forget: Reliable solution for all environmental conditions
Extended operational temperature increases reliability in special applications
Battery-free operation reduces maintenance costs
Input/output terminal LED indicators for quick troubleshooting
Automatic detection of and recovery from a bit corruption increase machine efficiency avoiding CPU stops
By adding IoT functionality to a wide range of products, OMRON accelerates the creation of an intelligent manufacturing site, which is key to the materialization of Omron's "innovative-Automation" concept together with its customers, pursuing remarkable enhancements in productivity.
Follow OMRON Industrial Automation Europe on Linkedin