Introducing the V275 Series, the ideal label inspection solution for manufacturers using Zebra thermal printers
In industries like life sciences, food & beverage, automotive and consumer packaged goods, it is crucial for companies to ensure that product and packaging labels show the correct content, are clearly legible, and meet mandated quality requirements. Otherwise, these companies could be liable for consumer safety issues and subject to costly recalls or fines.
Many manufacturers using Zebra thermal printers for label printing are in need of an inspection system that not only works in tandem with these printers, but also complies fully with the ISO 15426 standards. OMRON's V275 Series printer-integrated label inspection and barcode verification system is the only product on the market that does both.
The V275 Series covers all label inspection needs with efficiency
Nobody wants an inspection system that drastically slows down production. The V275 provides a solution for this, and grades 1D and 2D barcodes at normal printing speeds to ISO 15415, ISO 15416 and GS1 standards while inspecting human-readable content for accuracy and print quality using OCR, OCV and blemish detection tools.
The V275 provides a visual, web-based UI for configuration, runtime label view, data archiving, user management, and more. It supports continuous label printing, single label tear-off, and peel and present operation. Multiple printers can be networked to a single PC or server to minimize equipment investment and simplify data management for multi-printer installations.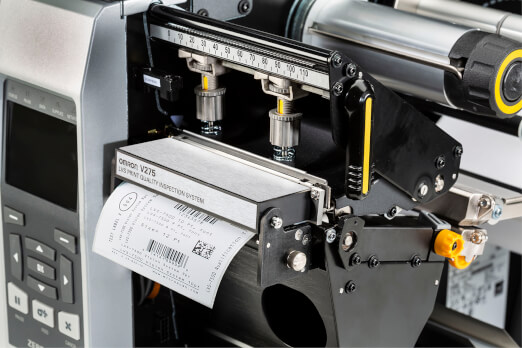 An easy way to achieve comprehensive regulatory compliance
By providing highly accurate automated inspection of thousands of labels per day, the V275 supports traceability throughout the supply chain of finished goods and labelled production materials. It also dramatically reduces the risk of incorrect or poor-quality labels making it to market.
This factory-built system builds upon OMRON's experience helping global companies comply with regulations like EU MDR, EU FMD, FDA, EPA, and US DOT as well as industry-specific guidelines from AIAG, GS1 and ISO. It addresses concerns in applications ranging from medical device manufacturing and kitting to automotive components, assembly, and vehicle labels.
Follow OMRON Industrial Automation Europe on Linkedin