Innovation boost for e-mobility: OMRON new member at renowned research campus ARENA2036
ARENA2036 stands for "Active Research Environment for the Next Generation of Automobiles". The association of prestigious industry and research organizations aims to promote mobility and production of the future. Intralogistics demo in Stuttgart.
To combat climate change and promote alternative mobility approaches, politics, economy, research, and society must collaborate. OMRON aims to help shape this change and has therefore joined the esteemed research campus ARENA2036. This initiative from science and industry aims to transform mobility and production through state-of-the-art technology. OMRON has been an innovator and thought leader in industrial automation for many years and is pleased to provide further impulse as a member of ARENA2036.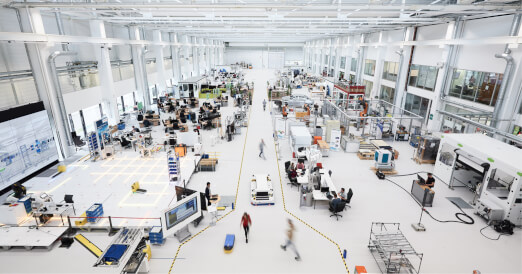 OMRON has launched the 5G MIPS project to be set up in the ARENA2036 by the beginning of 2024. In Stuttgart, the intralogistics solution will be presented to interested customers and partners. Partner companies OMRON, NAISE, NOKIA and OMRON Solution Partner WAITKUS will focus on the demands and challenges of the industry in a permanent demo live at the Stuttgart campus. The solution underlines the advantages of the 5G Private Wireless Network for the communication of mobile robot fleets combining technology for virtual fleet management, mobile robotics such as OMRON's LD-250, cobots such as the TM12 and the control system from NAISE. The solution concentrates on improved human-machine collaboration and more sustainable, seamless, and efficient manufacturing workflows.
ARENA2036 stands for "Active Research Environment for the Next Generation of Automobiles". OMRON has outlined its comprehensive social and ecological commitment in the company strategy "Shaping the Future 2030". Its goal is to increase the pace and scope of global sustainable development. OMRON's Sensing & Control + Think technologies are designed to help solve a wide range of social challenges worldwide.
The members of ARENA2036 work together on a wide variety of interdisciplinary projects. The initiative is supported by the German Federal Ministry of Education and Research (BMBF) and is run as a registered association. Its approximately 60 members are active in various disciplines – from the automotive industry to aerospace technology, industrial automation, textile and materials research to occupational science. In addition to OMRON, internationally renowned organizations such as BMW Group, Intel, Fraunhofer, Daimler, Bosch, Nokia, Siemens, Balluff, Kuka and others participate.
"We are very pleased that OMRON is joining the ARENA2036 network," says Peter Fröschle, Managing Director of ARENA2036. "ARENA2036 brings together members from science and industry – the 5G MIPS project initiated by OMRON is exemplary for the possibilities of our network. As an innovator for industrial automation and intralogistics, OMRON forms an important building block to collaborate on research topics concerning mobility and production of the future."
Dr. Klaus Kluger, General Manager for Central Eastern Europe at OMRON, comments: "Membership in the ARENA2036 innovation network underlines our vision of a sustainable future. Hand in hand with strong partners and as part of a big innovation movement we can set powerful accents, drive the mobility of the future and support industry sustainability. OMRON's participation in this prestigious association underlines our commitment to innovative transport and mobility solutions and accelerating their deployment for the benefit of society and the environment."
Follow OMRON Industrial Automation Europe on Linkedin