Omron impresses at the Africa Automation Fair
Africa Automation Fair 2015 was staged from 5 - 7 May 2015 at The Dome in North Riding, Johannesburg. It is ultimately the largest, most comprehensive showcase for Industrial Control Technologies of its kind in the Southern Hemisphere, drawing a record number of local and international exhibitors and visitors. We attended the fair with a brand new stand showcasing our latest technology and innovation.
Omron takes the lead at the Africa Automation Fair
Visitors at this year's Africa Automation Fair (AAF) was treated to a brand new Omron stand. Our latest addition to the stand was an innovative platform to showcase how we bring technology to life. The Sysmac Wall showcased how we integrate motion, logic sequencing, vision, safety and networking under one software: Sysmac Studio. Turning machine programmers into machine creators is the driving vision behind Sysmac Studio. Cutting programming, debugging and set-up time while maximising the functionality and performance of your machine is our ultimate goal. Thanks to the advanced design, our Sysmac Wall caught the attention of visitors and peers, once again confirming that we are leaders in our field. Its Sysmac Studio aims to offer one software for the complete machine. A software tool that only needs to be learned once, programmed, tested and tuned and secured as a whole.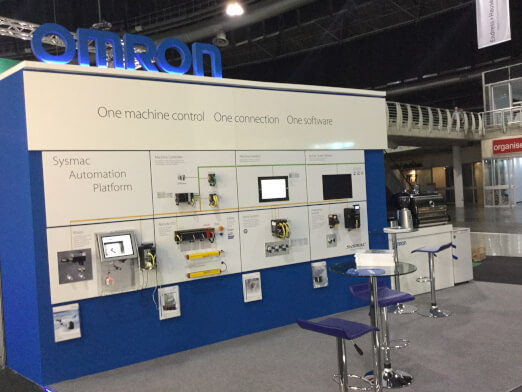 Follow OMRON Industrial Automation Europe on Linkedin